Welcome
Welcome to Art Glass Impressions!
Our studio is designed for the creative mind and the adventurous spirit.
We have a unique display of wonderful fused glass projects and projects from other mediums.
Come in and see our "AWE" (Artisan Windows East) Collection! These are our latest creations of Antique Window Designs made from old, recycled windows of days gone by.
You can find a listing of all our glass classes under the "Classes" link on this page.
We offer varying levels of classes from beginners to advanced designs.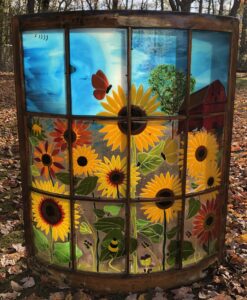 cHERISE kRATSA-hOAK
Ghost Horse
My Designs IN glass
This is just one of my Artisan Windows East (AWE) Collection of fused glass window designs.
Through experimenting with fusing, I have discovered that fusing window designs instead of the usual stained glass technique is not only doable but easier and less messy.
This technique took several years of trial and error before being perfected.
These windows can be used as indoor or outdoor wall hangings and can just as easily be put into use as a regular window if they were caulked.
These windows are also adaptable to kitchen cabinets, spice rack doors, and used as tabletops (see Furniture link).
The possibilities are endless!
Dream it and you can make it!
Through Researching ideas